Grilled Sepia with Clams & Chorizo
White Beans / Salsa Verde
SERVES: 8
DIFFICULTY: Medium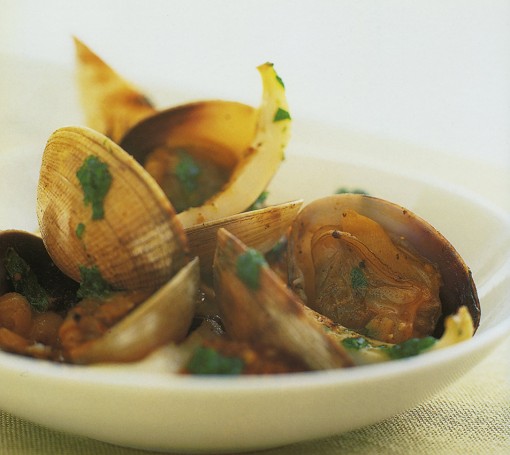 Ingredients
Seppie 8 ounces, cleaned
Zest and juice of 1 lemon, separated
Garlic 2 cloves, smashed, plus 1 clove
Oregano 2 sprigs
Thyme 4 sprigs
Cracked black pepper to taste
Grapeseed or canola oil 2 teaspoons
Chorizo 8 ounces
Manila clams 16 medium or 32 small, rinsed
Flat-leaf parsley 8 sprigs, leaves only
Vermouth 4 tablespoons
Fish stock 3 cups
White beans 2 cups, cooked
Salt
Unsalted butter 2 tablespoons
Crusty bread 8 slices
Salsa Verde, for garnish
 
A LTER N8: Substitute calamari for sepia, the less meaty cousin.
Substitute 6 ounces sliced chorizo links.
Directions
Marinate the cleaned seppie with the lemon zest, the 2 smashed cloves of garlic, oregano, thyme, and a pinch of cracked pepper for at least 30 minutes, covered, in the refrigerator.
Preheat the grill.
Add 1 teaspoon of the grapeseed oil to a medium sauté pan over medium heat. Working in 2 batches, add half the chorizo, and without moving it around too much, allow it to caramelize and brown for about 11/2 minutes. (Note: If you are not using the chorizo from my recipe, make sure to remove the casing from any other versions.) Add half the clams and half the parsley until it pops and crackles. Pour in 2 tablespoons of the vermouth and reduce by half, about 11/2 minutes. Add 11/2 cups of the fish stock and reduce by half, about 3 minutes. Toss in 1 cup of the white beans, adjust the seasoning with salt and pepper, and add half of the lemon juice. Add 1 tablespoon of the butter, and let the broth cook down until it gets nice and rich, about 2 minutes. Set aside in a bowl. Repeat with the remaining chorizo, clams, and beans.
On a hot grill, quickly sear the bread, then rub each slice with the remaining clove of garlic (see the Garlic Love Rub on page). Grill the marinated seppie for about 1 minute on each side (about 11/2 minutes for squid), then cut into 1/2-inch slices.
Place a crusty bread slice in the bottom of each bowl. Spoon over the clams and chorizo and sprinkle the seppie on top. Drizzle with the salsa verde. Serve immediately