Marinated Peppers / Warm Anchovy Vinaigrette
SERVES: 8
DIFFICULTY: Easy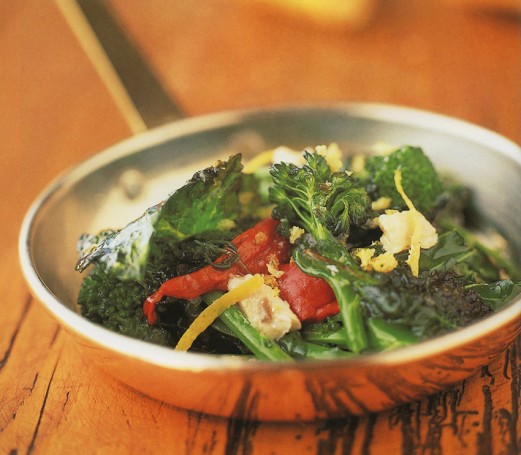 Ingredients
Unsalted butter 5 tablespoons
Chopped garlic 1 medium clove
Long zest of 1/2 lemon, sliced thin lengthwise
White anchovy 1 ounce, cut into thirds
Extra-virgin olive oil 1/8 cup plus 2 tablespoon
Juice of 1 lemon
Salt and pepper to taste
Baby broccoli 2 pounds
Marinated Roasted Peppers 1/2 cup, about 3 medium
ALTE R N8: Sprinkle with Toasted Bread Crumbs.
You can use regular anchovies in a pinch.
You may use either broccolini or broccoli rabe if no baby broccoli is available.
Directions
For the warm anchovy vinaigrette, in a small saucepan over low heat, melt 3 tablespoons of the butter with the chopped garlic. Add the lemon zest, anchovy, and 1/8 cup of olive oil. Simmer for 5 minutes and adjust the seasoning with the lemon juice, salt, and pepper. Set aside and keep warm while cooking the baby broccoli.
Working in 2 batches, in a cast-iron pan over medium-high heat, add 1 tablespoon of the olive oil. Place half of the broccoli in the pan, spreading it out in a single layer over the base of the entire pan. Add 1 tablespoon of the butter and dot it throughout. Try not to move the broccoli too much—this is how you obtain that wonderful char. Leave it to cook for 21/2 minutes on each side. Turn the heat off and allow the broccoli to rest for 5 minutes. Season with salt and pepper. Set aside, then repeat this process with the remaining broccoli, olive oil, and butter.
To serve, place the charred broccoli in a small serving dish. Toss with the marinated peppers and drizzle with the warm anchovy vinaigrette. Feel free to finish the dish with toasted bread crumbs if you've got 'em.